CONNECT WITH DSI AT HAI HELI-EXPO 2023
HAI HELI EXPO 2023
Atlanta | March 6 – 9
DSI BOOTH B4222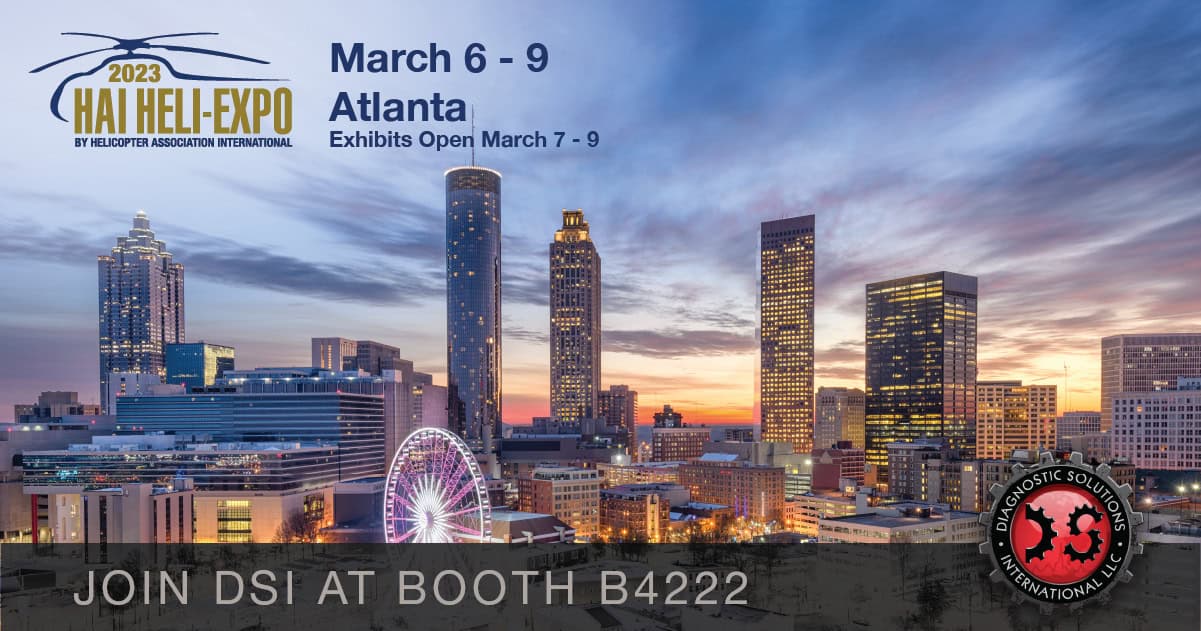 Celebrate the vertical aviation industry at the Georgia World Congress Center in Atlanta, Georgia, at HAI HELI-EXPO 2023 and join Diagnostic Solutions International, LLC at booth B4222. DIAGNOSTIC SOLUTIONS INTERNATIONAL LLC IS THE PREMIERE Honeywell HUMS Technology Licensee and Global Master Distributor, specializing in: HUMS, RT&B Analyzers, Avionics, Sky Connect, Aspire In-Flight Connectivity (IFC), and REVOLUTION "REVO" CVFDR products.
With over 350 years of combined experience, DSI is the Premiere Source for HUMS, Rotor Track & Balance (RT&B), CVFDR Flight Recorders, AVIONICS, SKY CONNECT & ASPIRE products. We specialize in providing on-site technical support training, and health and usage monitoring system data management and analysis.
DSI has decades of experience relevant to the usage and operation of: Carry-On VXP, On-Board VXP, EVXP, AIMS, Enhanced Vibrex™ 2000 Plus, VMS II, 8500 C Plus, FasTrak™, Strobex, accelerometers, velocimeters, photocells, magnetic pickups, calibrators, tab tools, Smart Chart™ technologies, VibraLog™, VibReview™, VibDAS™, etc.
Visit booth B4222 to find out how DSI can assist you and provide a single point of entry for all of your HUMS needs.