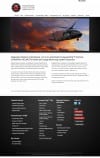 Diagnostic Solutions International is pleased to announce the launch of our updated website, designed with a fresh new look and user-friendly navigation.
The updated product pages contain information about existing and new products. You can now search our product catalog. You will be able to review specifications if available, browse our brochures and read the most updated news.
We hope that you will enjoy browsing our new site, finding more options and information each time, and that it will be yet another tool for strengthening our business relations.
If you experience any problems using the new website or if you have any suggestions, please contact us at [email protected]